Description
Pick, carry, empty – it's easier, faster and safer with Quick Pick!
Manufactured in Britain, the revolutionary design of the new Quick Pick helps you spend more time in the saddle and less time cleaning up.
Turning heads as an easy solution for muck picking, yard cleaning and water carrying, the Quick Pick boasts a range of cleverly designed details never seen before.
With roughly twice the capacity of a standard muck scoop, the sturdy foot plates anchor the Quick Pick, leaving both hands free for raking. The unique flip and store design stops muck from rolling out, while the upright stance means no more bending and the easy-empty handle allows for swift emptying without any wrist twist.
In a recent survey over 80% said they preferred Quick Pick to a traditional muck scoop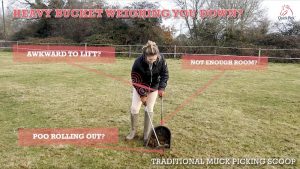 Ultra-lightweight and extra strong, the plastic elements of the Quick Pick remain durable down to temperatures of minus 20, while the metalwork is anodised aluminium making it less likely to crack and peel or show signs of wear and tear, making it a great longer-term investment for field or stable.
Available in six colours – including pink, purple, red, blue, green and black – the Quick Pick is built to use alongside the Fyna-Lite Quick Pick Rake (sold separately), with the same colourways offered.